I'm still alive!:p Feels like it's been years since I've last updated this blog. I just want to post about our recent holiday in South Africa, but first I have to write a really, really outdated entry on what I was up to within those few weeks in between my Jordan leave and South Africa leave.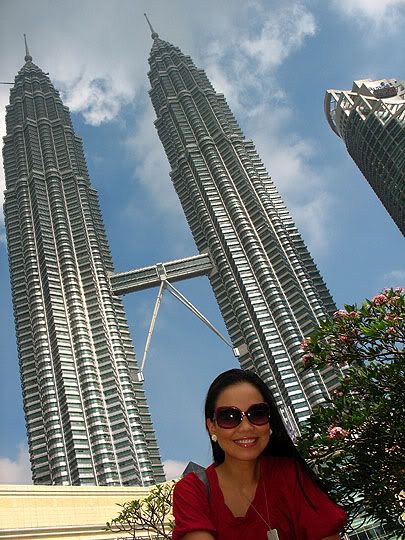 After our Jordan trip, I flew to Dusseldorf, Germany and well, did nothing again except go to the supermarket. A week later, I was off to Kuala Lumpur, Malaysia, where I took my 1 millionth picture with the Petronas Towers. Afterwards, I just went around the KLCC area and took it easy. I badly wanted to go to Bukit Bintang for a cheap massage, but it was too hot and I couldn't be bothered to go far anymore.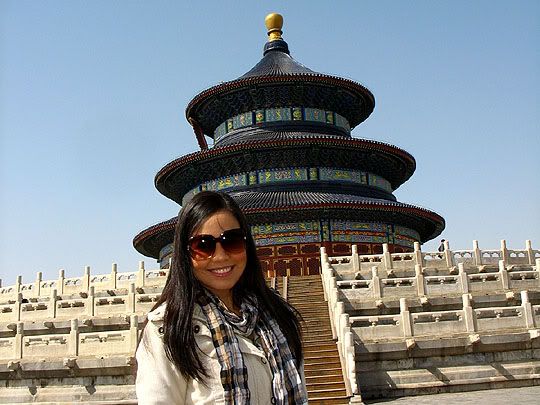 At the very end of March (yes, that's how outdated this post is!!), I flew to Beijing, China. It's been so long since I've been to Beijing. I've already visited the Great Wall and Forbidden City before, so this time, we went to the Temple of Heaven.



What was nice about that flight was that I got to fly with Noel and Clyde, 2 Filipinos that I've already known since before. Clyde and I were in the same batch when we tried out for Emirates ages ago, and I've gone around Hong Kong with Noel when we flew together more than 3 years back.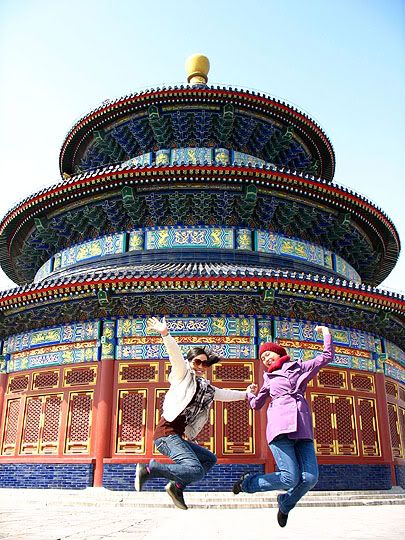 I was telling Clyde and Noel about my cool jumping pictures in Jordan, so we also took a lot of jumping pictures at the Temple of Heaven. I've a lot more solo jumping pictures, but I've taken so many of those recently that I'd seem like some jumping freak if I post any more of them here. Haha.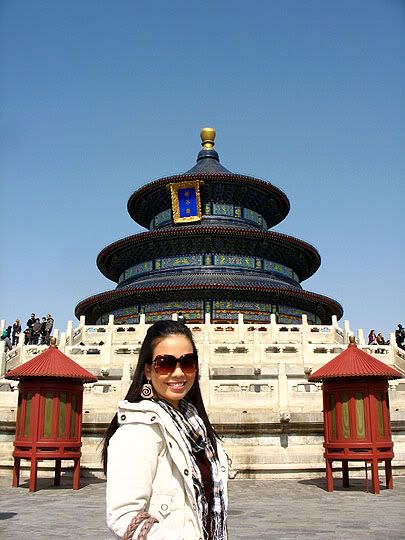 This is the front part of the Temple of Heaven. Compare this with the photo below: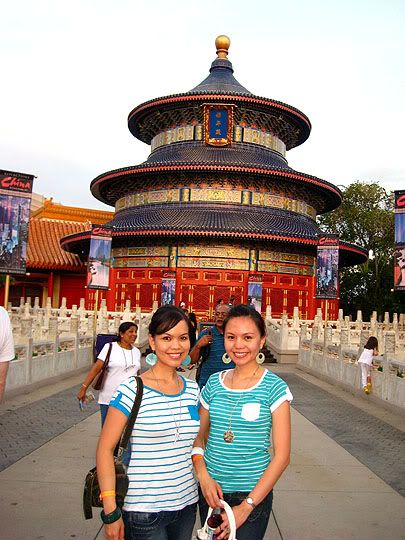 Check out this Temple of Heaven replica, very very similar! This was in Epcot last September 2008, when my sister Joann and I spent 9 days in Disney World Florida.

At the start of April, I swapped my Kuala Lumpur flight for a Bangkok. It's been almost 2 years since my last Bangkok flight, and I missed going shopping there. But it was quite a bad timing to go there because of all the protests. Our hotel used to be in the city, but for safety, we stayed at a hotel near the airport instead, which was far away from the good shopping malls. That didn't stop us to go shopping, of course. I still went to Platinum, my favorite mall in Bangkok.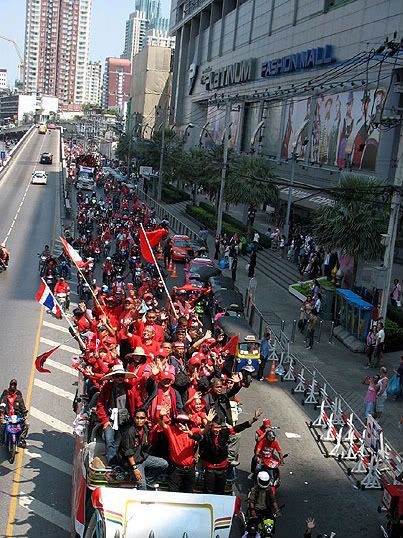 There's this other shopping area across the street from Platinum which I also like going to. When I was at the overpass on the way there, the Red Shirt protesters happened to pass by! It was so cool that I got to see them! They looked like they were having a lot of fun, not scary or violent as I would've expected.

There were a few significant things that happened to me in Bangkok. The first one was an encounter with a saleslady who actually remembered me from 2 years ago! She went, "I remember you!!! Blah blah blah... air hostess…!!" I was so shocked. I mean, I never even go around mentioning my job to other people, so we must've really talked before! Another thing that happened was that when we went back to the hotel, I realized that I misplaced one of my plastic bags! Boohoo. It had 2 dresses that I really liked, plus 1 blouse. I was so crushed. Anyway, life will go on. Haha. One last significant thing that happened was that a passenger actually stole my uniform hat onboard the flight from Bangkok to Dubai! Good thing another passenger saw him and told him to return it to me. I couldn't believe it. It's a really funny (albeit very irritating) story. If it weren't so long ago, then I probably would've written about it in detail. Now I'm just too lazy… Plus it's more fun to tell the story in person. :)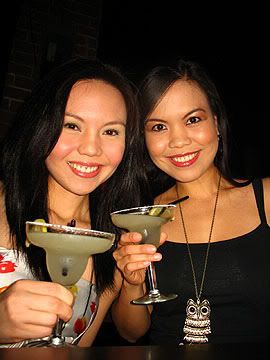 Back in Dubai, my sister was itching to go out for a drink one night, so I went out with her to sip margaritas and watch a live band. It was nice to actually go out late at night in Dubai for a change. Then I had a flight to London Gatwick a few days later. Wanted to go out to Central London since the last time I ever went there was mid-2007. But I got lazy again and ended up just shopping around the hotel area in Crawley.

I was supposed to have a flight to Shanghai, China in the middle of April, but I swapped it for Bangkok because I wanted to go back to Platinum. Wrong move! The situation with the protesters was already getting bad by that time, and all the other malls were closed except for MBK. I don't like MBK at all, so for me, it was a complete waste of a good layover. :( Anyway, I was excited to fly back to Dubai because my mom just arrived. It was supposedly an overbooked flight from Manila to Dubai, so it would've taken a miracle for her to get on the flight. Surprise, surprise, a miracle did happen! Because of the Iceland volcanic ash cloud situation, a lot of passengers traveling from Manila to the UK via Dubai were not allowed to take the flight, so my mom was able to get on!

My mom has been to Dubai so many times, but she's never seen the finished Burj Khalifa before. I took her to see the world's tallest building and watch the fountain show beside it. Then just before my leave, I had one last flight to Lagos, Nigeria, which surprisingly wasn't so bad. After that, I still had 5 days off to kill in Dubai before we had to leave for South Africa.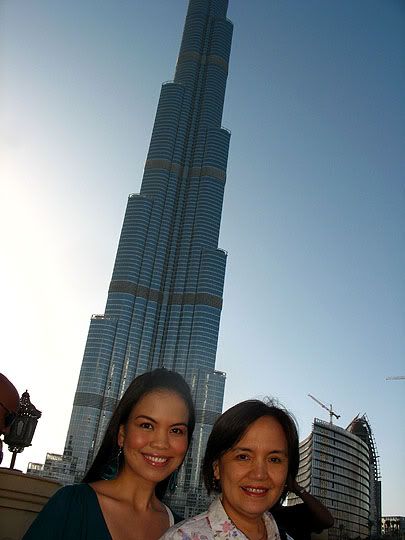 Me and mom at the Burj Khalifa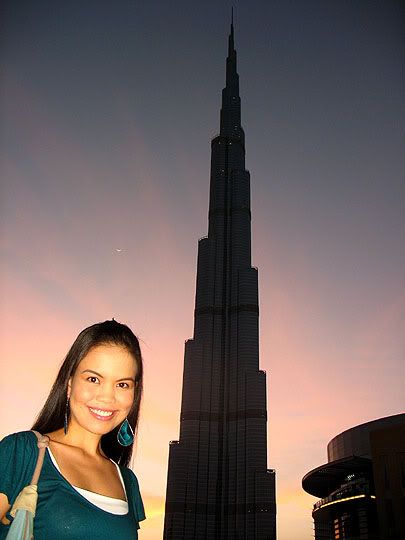 Burj Khalifa at sunset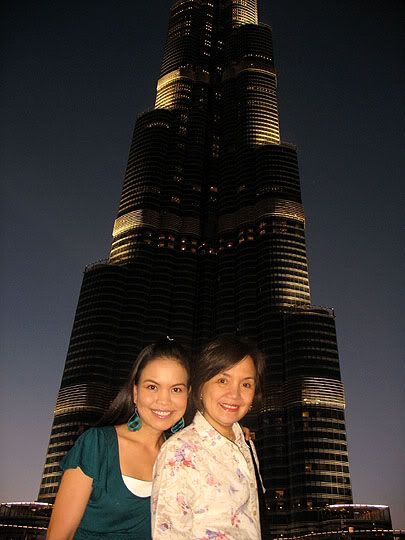 Me and mom a little closer to the world's tallest building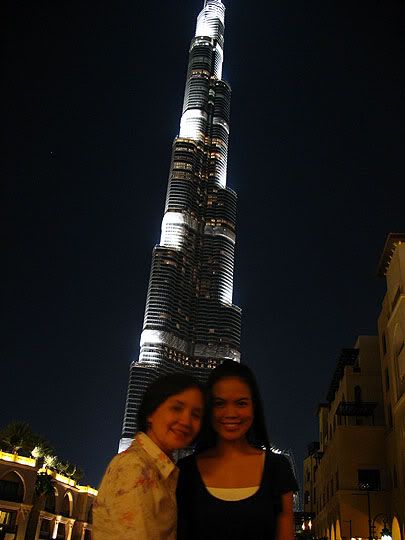 Burj Khalifa from Souk al Bahar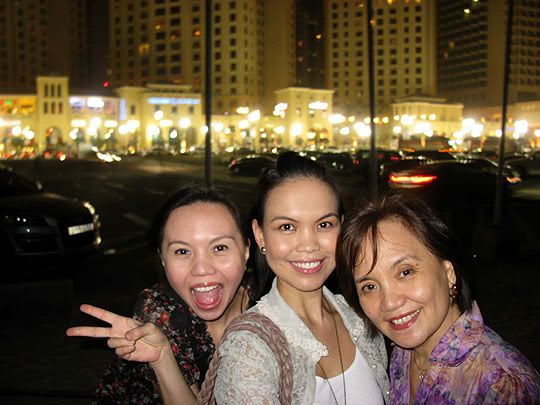 Joann, me, mom at the Dubai Marina Walk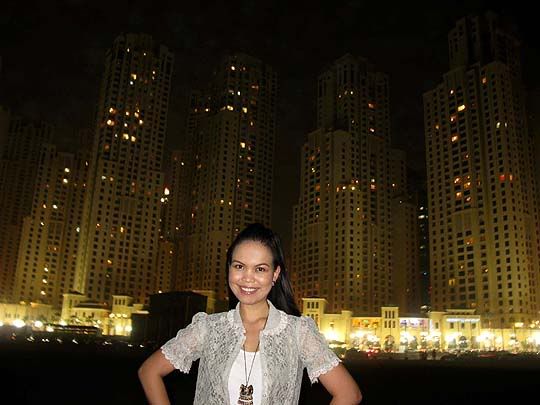 Dubai Marina Walk, taken from the beach area across

Now I still have to sort out like a thousand pictures from our April-May South Africa trip! But I'll try to do that ASAP…Ü