I didn't really get to celebrate my birthday 2 weeks ago because I had to spend it resting for a flight to London Gatwick. My pickup was very late at night, so I just spent the afternoon at Ellen's flat then I had to sleep by early evening. I didn't really mind not celebrating on the day itself, since I had an upcoming Manila flight a few days after London Gatwick anyway. I was supposed to arrive in Manila by Saturday afternoon and I had plans to meet up with my friends for dinner. My sister Joann also had a Manila flight that same day, arriving in the evening, so we were supposed to have a post-birthday lunch with the whole family the following day, Sunday, since all of us would be in Manila.

I arrived in London Gatwick the morning after my birthday. The whole place was white! Very thick snow covered the ground like icing on a cake. It wasn't snowing when we arrived, so I went out straightaway to the shopping center in Crawley, just a few minutes walk from our crew hotel. As usual, I just bought lots of groceries from M&S, plus a dozen of my favorite Millie's Cookies – half for me and half to bring to my friends in Manila. Haha.

The following morning, our wakeup call was delayed because the London Gatwick airport was closed due to the heavy snow. The incoming flight from Dubai that day couldn't land in Gatwick, so the plane had to divert to the London Heathrow airport. When we finally had our wakeup call, we were told that we had to take a 1.5hour bus ride to Heathrow and operate the flight from Heathrow to Dubai. Because of this mess, we had so much delay. We arrived in Dubai 4++ hours later than scheduled. Since there are certain rules and legalities regarding rest and days off, I was no longer legal to operate on the Manila flight that Saturday because the delay made the flight extend up to the day that should have been my legal day off. To put it simply, I lost my Manila flight because of the delay. So much for the post-birthday celebration with friends and family in Manila. I was so sad! :( :( :(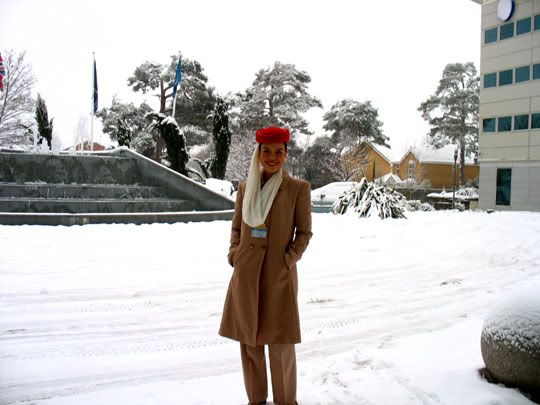 Here's me just outside our hotel in Crawley, England, just a few minutes away from the Gatwick airport, which was closed that morning because of the snow.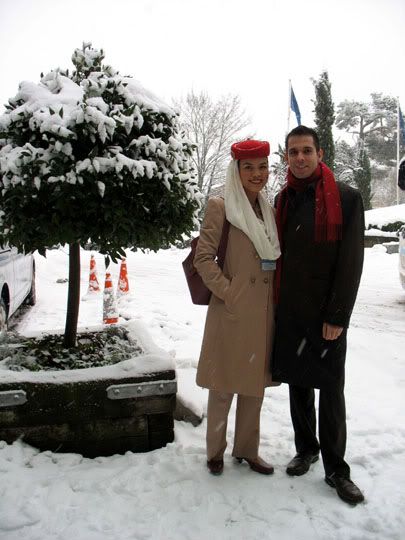 It's not so obvious in this picture, but my colleague Ulysses from Brazil looks exactly like Ben Stiller in person!!! Such uncanny resemblance that a lot of us just had to take pictures with him! ;p

So anyway, the next day in Dubai, I was so upset that I didn't have my Manila flight anymore. Instead, I had my legal day off + 2 days of Can Use. To make myself feel better, my sister and I went to check out the Burj Dubai, a.k.a. Burj Khalifa, since it just opened early this month. The Dubai Mall is right next to it. I haven't been to that mall in months, and I was surprised to see all the shops open now. It used to be a really boring mall before, but now I really like it there!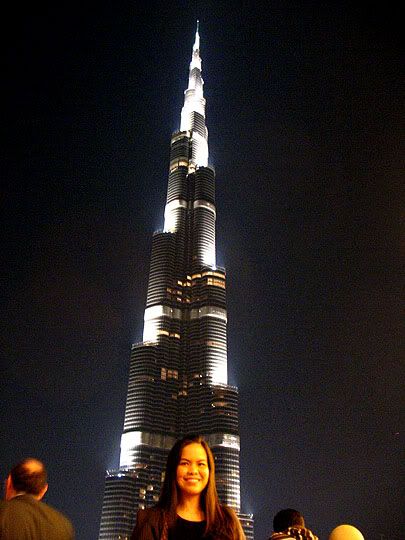 Burj Dubai, the world's tallest building (I prefer calling it that than its official name.)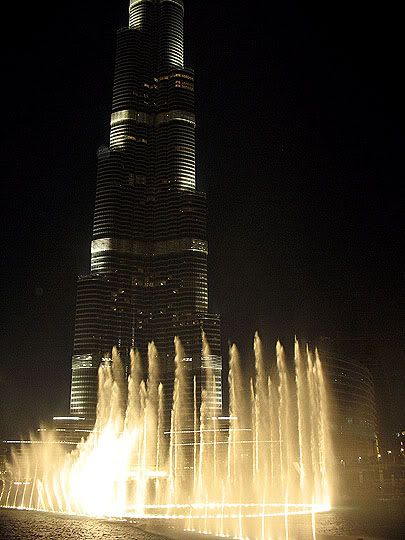 There's a fountain show in the evening every 20minutes! It kind of reminded us of the Bellagio in Vegas.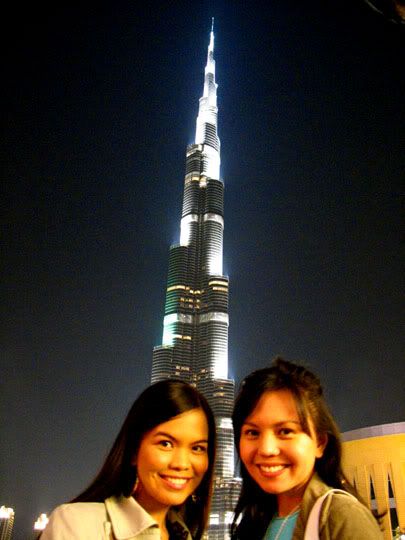 My sister Joann and I went back the following evening. We just wanted to look around the Dubai Mall some more.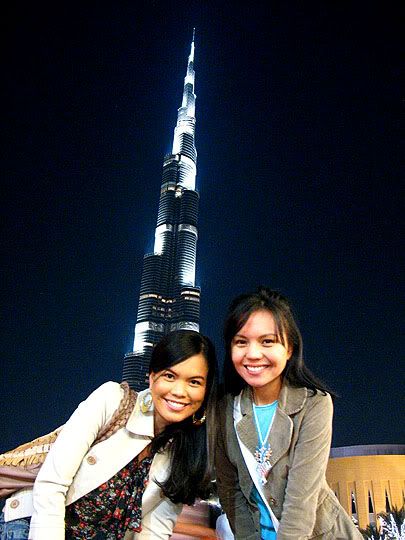 The Burj Dubai looks like a needle. Joann and I have similar pictures with the Petronas Towers in Malaysia. For me, the Petronas is much more impressive and more imposing. Actually, the whole setup (tall tower + big mall + fountain) reminds me of Malaysia.

Anyway, my 2 days of Can Use turned into a Munich, Germany layover. (There's actually a story behind this, but I'm too lazy to write about it.) It was also below freezing when we got there, but I still went out to the city. I'm starting to get used to this extreme cold weather… Nah, I'm just kidding. I hate extreme cold. It makes me tired to have to put on (and take off!) so many layers of clothing!!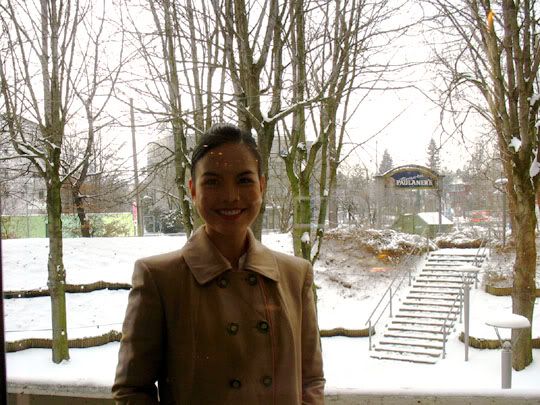 My hotel room in Munich was on the first floor and this was on my balcony. This picture is blurry because I was actually behind a glass door. I just put my camera on top of the lamp and set it on timer. :)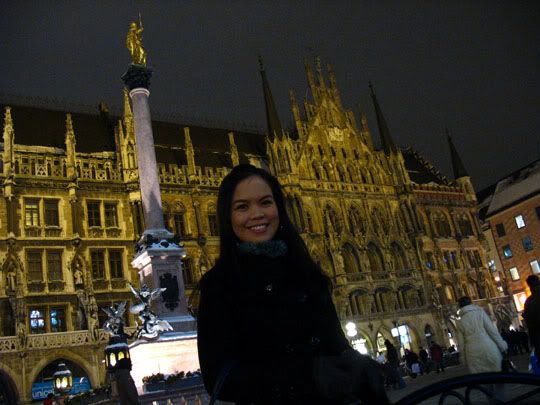 Me in Marienplatz in Munich, Germany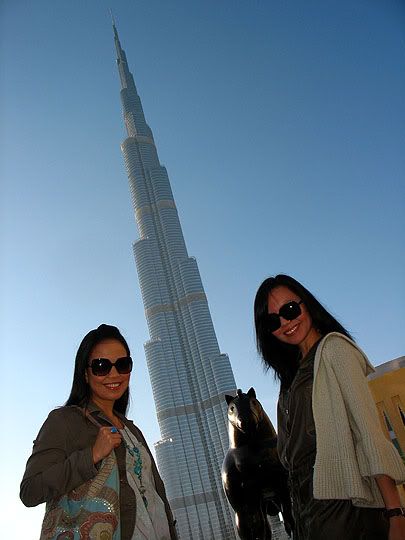 For the third time in just one week, my sister and I went back to the Burj Dubai and Dubai Mall. I wanted a picture with the Burj Dubai at daytime. :)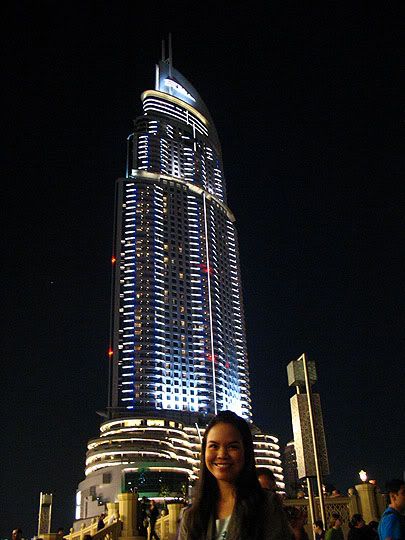 The Address Hotel next to the Dubai Mall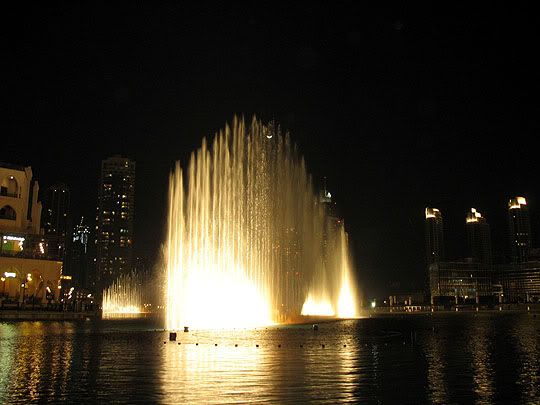 Let me post more pics from the beautiful fountain show. 1…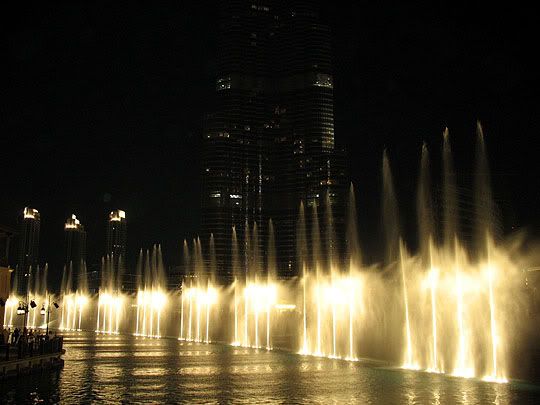 2…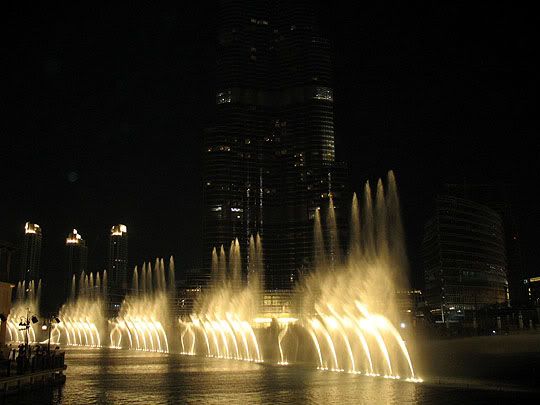 3…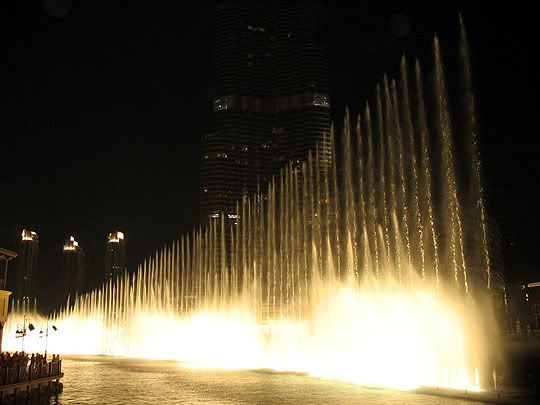 4!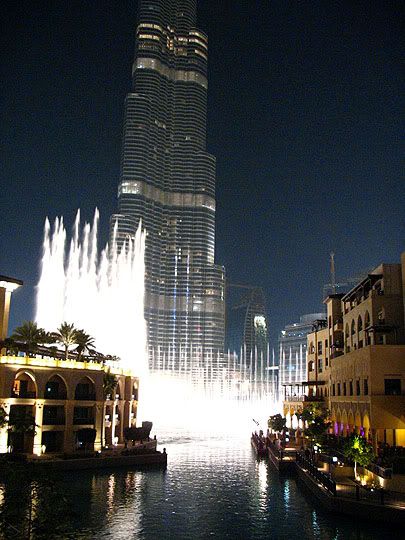 We watched the fountain show again from another angle. Amazing!

The other day I was just in Dhaka, Bangladesh. I didn't bother to go out anymore. Tomorrow, I'm off to Rome, Italy and I'm looking forward to it. Afterwards, I have 4 days off, then my dreaded annual recurrent SEP Training. Those 2 days back in Training College are my most dreaded, most hated 2 days of the year! Ack!