Wahhh! It's because of this 9-day South Africa trip that I've almost completely abandoned my blog! It's just that I always get cross-eyed and dizzy when I have to sort out so many pictures from just one trip/event. We took so many photos in South Africa that it already felt like such a chore even to just browse through them, much more to pick out a few to post here. Really couldn't get myself to do it these past few months. Couch potato!
I feel weird writing about such old news, but might as well get this over and done with. Because even though I'm too lazy to post about this, I don't want to have missing entries in my blog either. :p
It was long ago at the end of April that I left for Cape Town, South Africa with my mom and sister Joann. Our mom has always wanted to see Africa, so Joann and I decided to take her around South Africa for our leave. My sister and I have already been to Cape Town before, but we haven't really explored the place so much since we don't have a lot of time during layovers. This time, we had 5 nights there to enjoy all the amazing sights. The only downfall was that the place felt unsafe and creepy.
Upon arrival in Cape Town, we went to the V&A Waterfront for dinner. That night, we met Randall, a really nice taxi driver whom we ended up hiring for most of our stay to take us all over the city. We got to see penguins, feed a giraffe, hold owls, and see so many beautiful sceneries, but my favorite of all was when we were on top of Table Mountain with the clouds.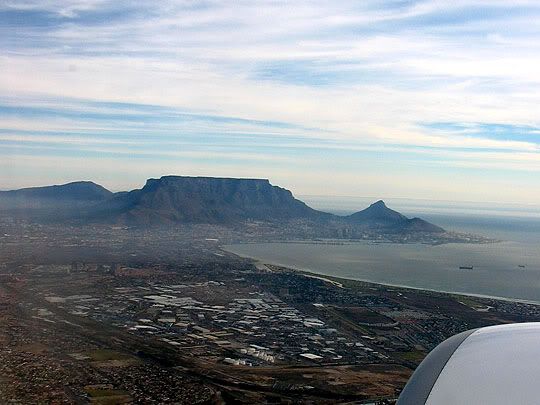 Captivating view of Table Mountain from the airplane window as we were landing into Cape Town
Me, Joann, mom at the Kirstenbosch Botanical Garden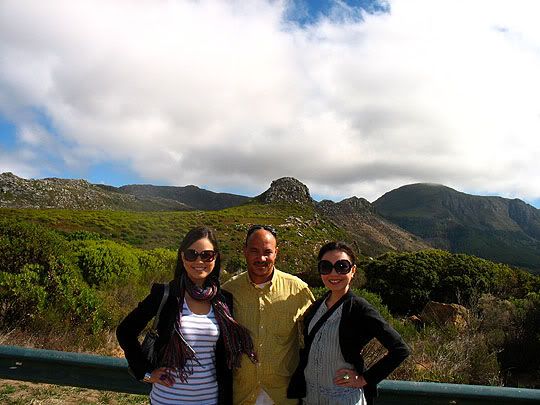 Touring Cape Town with our driver Randall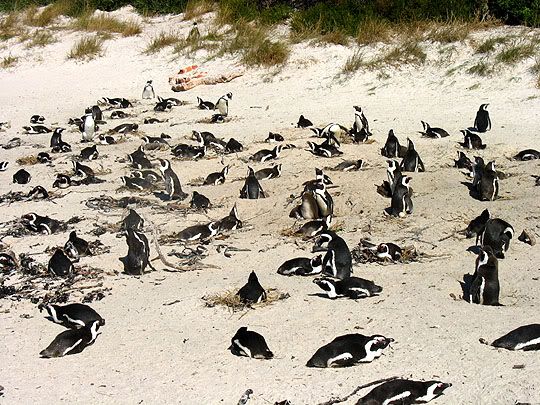 African Penguins at Boulders! :)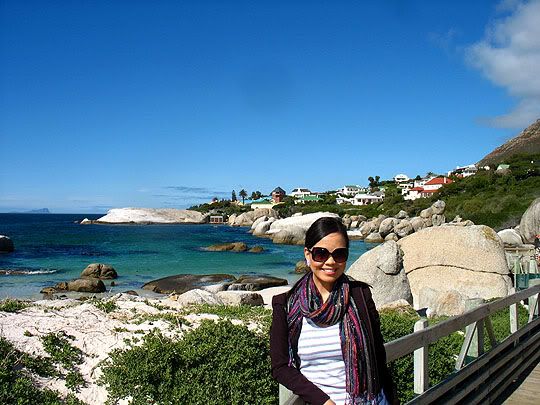 False Bay at Boulders – love the colors of the water!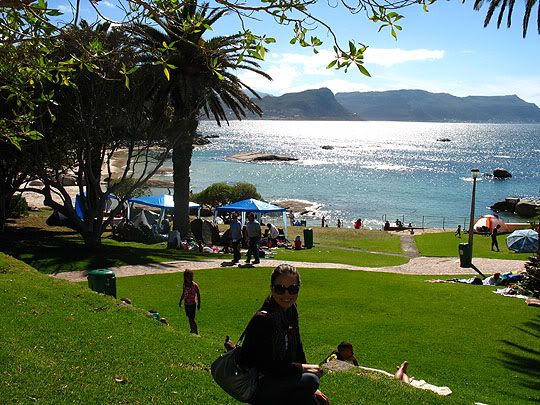 Beautiful Boulders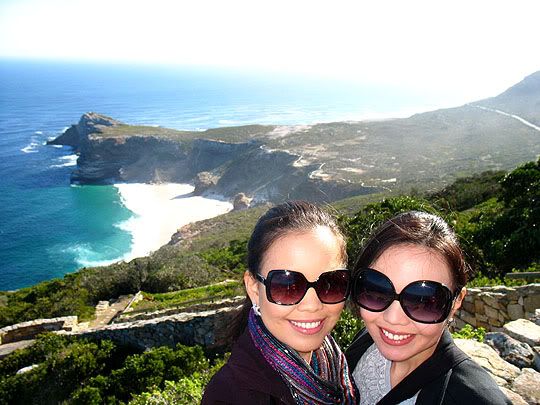 Cape of Good Hope with Joann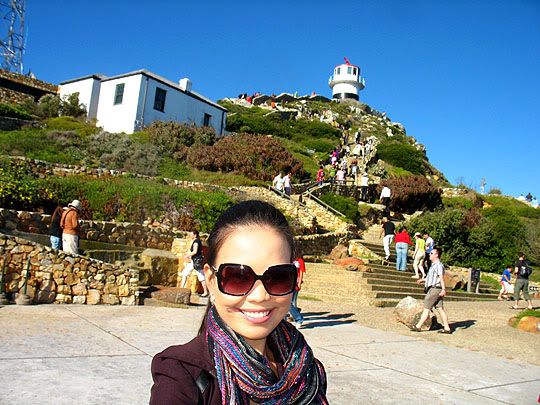 Cape Point Lighthouse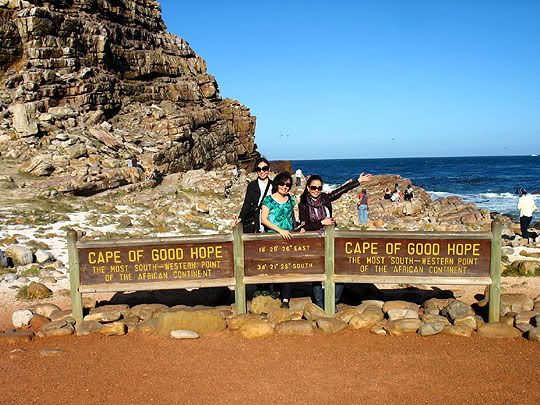 Cape of Good Hope
Chapman's Peak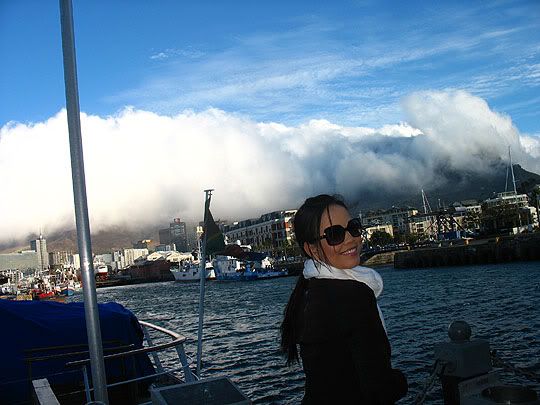 At the V&A Waterfront, where the Table Mountain was covered with clouds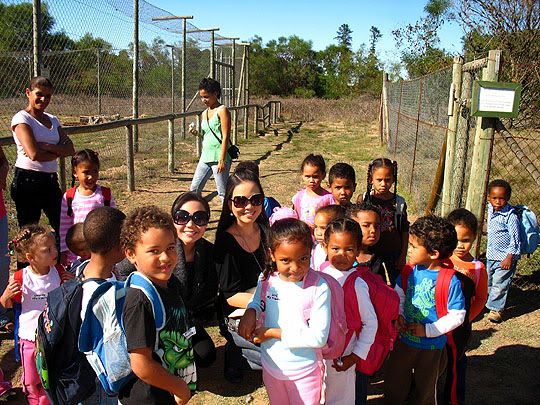 We went to the Tygerberg Zoo Park for the animals, but I was more excited to see a group of very cute "colored" kids! Haha.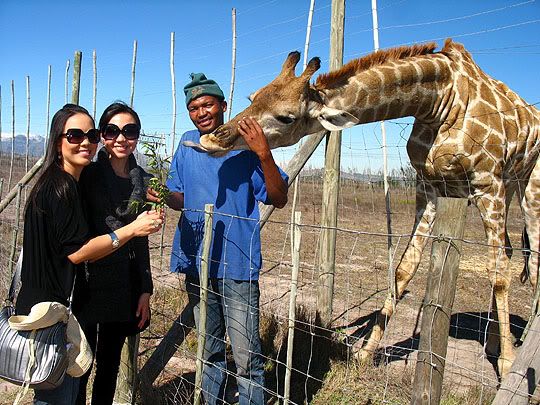 Feeding Gerry the Giraffe with the help of Sampy (Gerry's handler) at the Giraffe House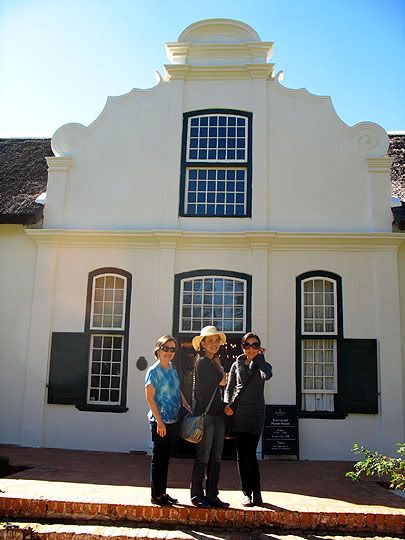 At the Boschendal Manor House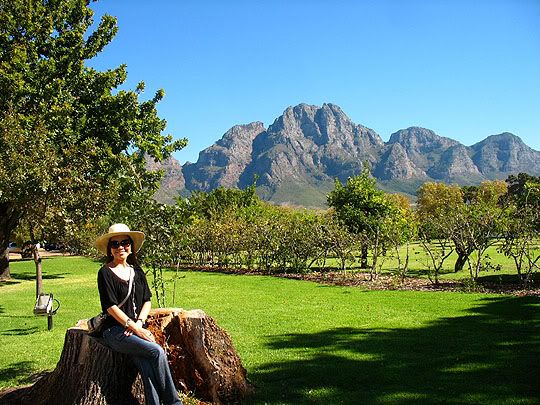 Boschendal Wine Estate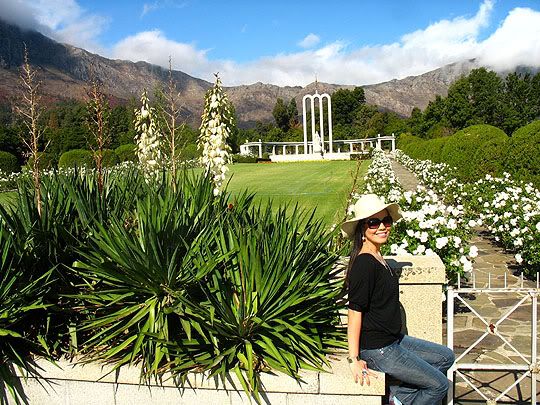 The Huguenot Monument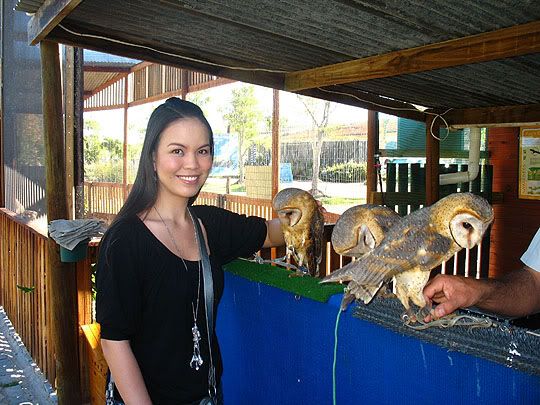 Super fluffy tiny owls at Spier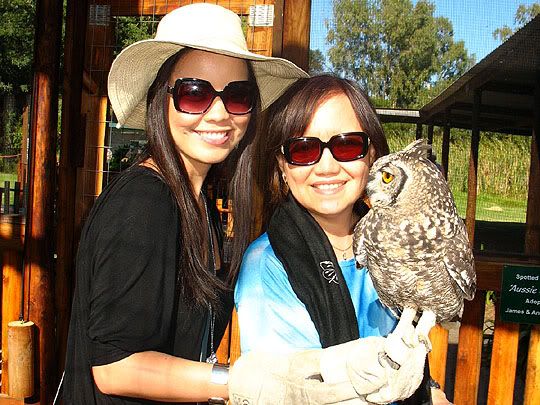 Got to hold an owl, but too bad it didn't know how to face the camera. :p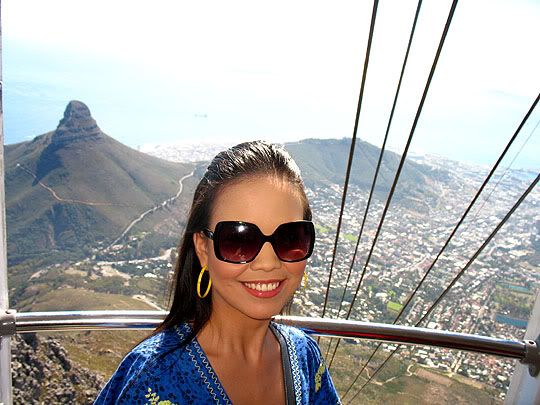 Going up Table Mountain via cable car, with Lion's Head on the left
Cute African kids on a field trip to Table Mountain
View from the top of Table Mountain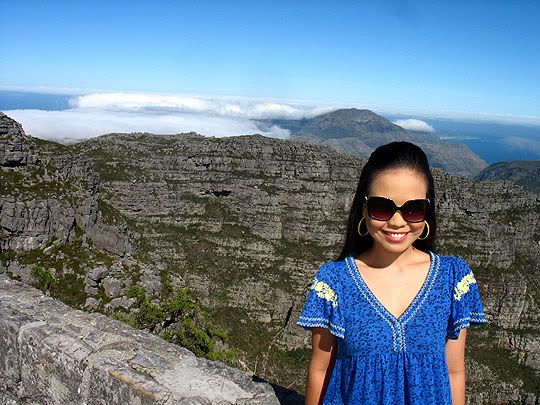 Table Mountain, before the clouds started to cover it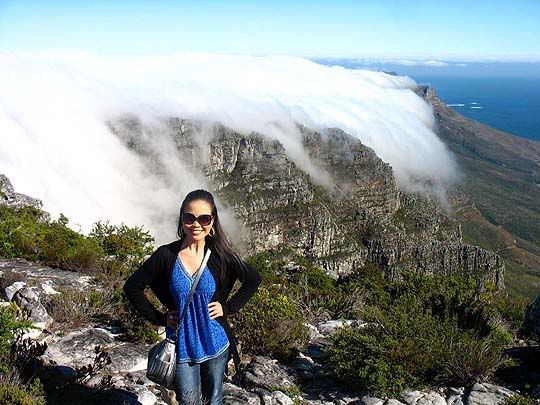 I absolutely loved it when the clouds started approaching! They looked like cotton candy. :)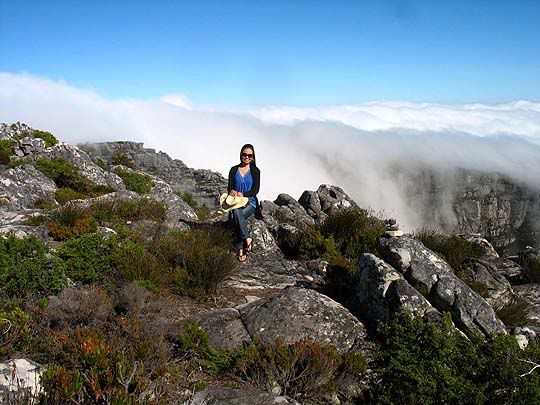 We felt like we were in heaven! This is one of those places where you feel like you can sit there forever.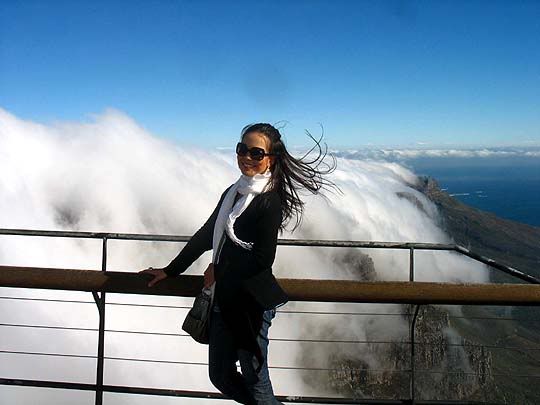 Table Mountain almost completely covered in cotton clouds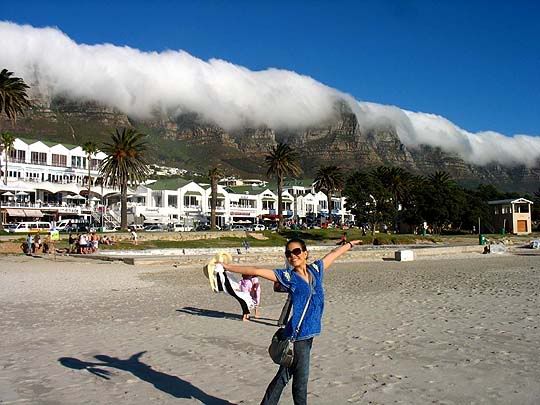 At Camps Bay, with the 12 Apostles covered in clouds too!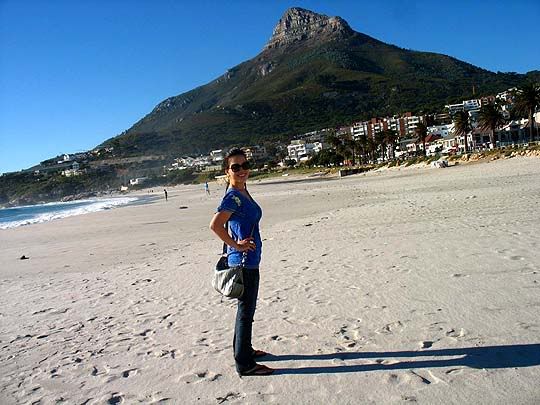 The Lion's Head at Camps Bay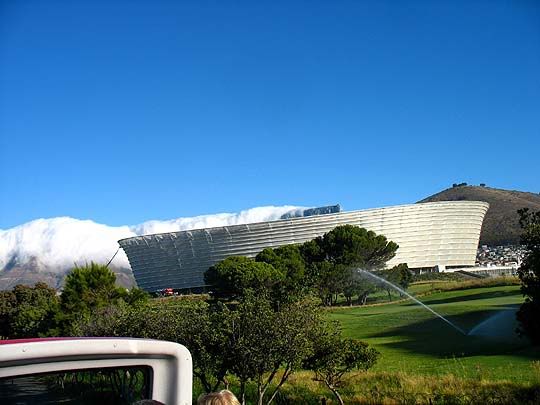 The Cape Town Stadium, a venue for the World Cup 2010, shaped just like Table Mountain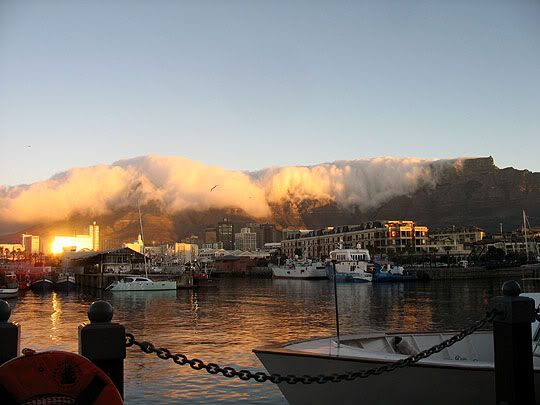 Sunset at the cloudy V&A Waterfront
Goodbye, Cape Town! Up next, off to the wild for our African safari! :)